Media and thank you's….
BUSINESS PROFILE…..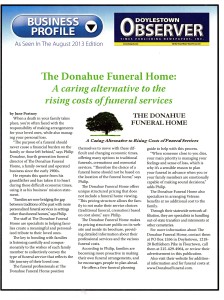 THANK YOU!
2/16/15

Published on RateABiz
Displayed on Website

Janet S

Great experience

Donahue funeral home was flexible, reasonably priced, and helpful. Kathy was exceptional in helping us through our difficult time. She was always available for questions, very comforting, and she seemed to genuinely care for me and my family.

Phil and I are honored for your review and blessed that you felt this way…Your family joined together during such a difficult time and created a wonderful tribute to mom's life and accomplishments. No one can take the pain away, nor the pain you continue to carry but we hope we helped in our small way to remember mom the way SHE wanted to be remembered. God Bless you and your family…
2/17/15

Published on RateABiz
Displayed on Website

Robert S

Well done.

It was a pleasure working with Donahue funeral home. This was a difficult time for our family, and Phil and his staff made sure that all bases were covered. They helped us through the process and truly helped make this a memorable service for my wife. I would highly recommend them.

Thank you very much for the kind words. It was our honor to assist your family during such a difficult time. We continue to pray that each day brings a little more peace from the day before…God Bless… Phil and Kathy
| | | |
| --- | --- | --- |
| | Marilyn N | They handled an out of state burial very well and made a very difficult time easier. Everything was handled beautifully |
Very pleased with Phil and Kathy
Phil and Kathy of Donahue Funeral Home were so very helpful starting from the initial meeting with Phil in advance of our father's passing thru the memorial service to celebrate his life. The memorial service preparations were made much easier with help from both Phil and Kathy. They were very professional and compassionate during what was a difficult time for our family. In addition to helping with establishment of burial CD's, they handled the cremation, secured the prayer cards & matching thank you notes, assisted at the service and secured certified death certificates. They are good, caring and honest people!
Having been my first time arranging a funeral, Mr. Donahue was nothing less than excellent!!
With the sudden passing of my mom rather quickly, I took a moment to "google" cremation. I had no idea where to begin.. I found a small video by Mr. Donahue and took a chance on calling. After that call – there was nothing left for me to do with that regard. Not only that, he was the least expensive. I also tried several of our local funeral homes and no one gave a clear concise pricing whatsoever. I still think, 9 months later, of how at ease I was with the whole process and how truthful, gracious and professional Mr. Donahue was. TEN STARS!!
Dorothy P

Amazing

Although it was one of the most difficult times of my life losing my father, Donahue made the experience bearable because of their sympathy, professionalism and simplicity. I think they are amazing not only as funeral directors but as people. Thank you for your sensitivity and help during a tough time. I will always remember you fondly
Michael R

Full Service

Our family has used Donahue Funeral Home for many years. They take care of all the details connected with the death of a loved family member.Mass cards,flowers,obituary notices,church scheduling,grave opening,stone engraving,luncheon arrangments,and all the many things that grieving relatives would often forget
John S

Professional and caring service

Phil was available day and night to help me with my dad's funeral arrangements. He made the process a whole lot easier to deal with, and took care of all the details to have him buried at the National Cemetery in Newtown. I highly recommend Donahue Funeral Home
Like Family
It was in 1996 that my Father died suddenly in a car accident in Colorado when Donahue Funeral Home took care of all the arrangements needed to transport his body back to Pennsylvania. In occasions like this children in their 20's and 30's are not prepared to plan for the funeral of parents. Thankfully Donahue was there for us. We came full circle this past March of 2015 when my mother finally succumbed to cancer. Her treatment was our primary concern. She let us know what her final wishes were but we did not have the opportunity to plan with Donahue Funeral Home in advance of her death, but the morning she passed they were at her home within hours. They gave her the exact funeral she wanted in a small chapel outside the Philadelphia Archdioceses which was not too easy. Mr. Donahue even had a few kind words to add about my Mother's strength after my Fathers death at her graveside. Our family is extremely grateful for the services of Donahue Funeral Home at the two most saddest times of our lives.
"Phil and Kathy:  We would like to take the time and say how grateful we are to be blessed with two very amazing people in our lives.  We appreciate everything you done for not only for our baby but for our whole family, you both made it a little easier on us.  The ceremony was beautiful and very well organized and for that we thank you.  We hope to keep in touch as we all get back to our busy lives.  "
"We cant express how much we appreciated your help with our sister's funeral.  You went beyond the call of duty.  Thank you!"
"Dear Phil, Thank  you for your professional efforts and your personal are and compassion during this difficult time for me. "